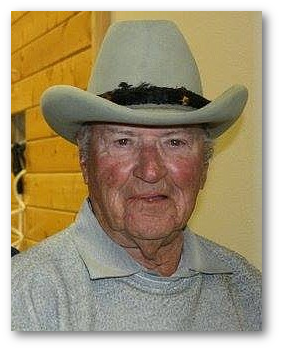 Marlin J. Metcalf
October 26, 1922 - February 27, 2020
Marlin J. Metcalf, 97, passed away in Thousand Palms, California, on Feb. 27, 2020.

Marlin was born in Hooker, Oklahoma, on Oct. 26, 1922, attended local schools and graduated from Hooker High School in 1940. He attended the Panhandle A&M College and married his high school sweetheart, Bathena Rider, in January 1943.

In World War II, Marlin served with the U.S. Army's legendary 82nd Airborne Division, having fought in France, Belgium, Holland, Luxembourg and Germany.

In 1955 the Metcalfs moved to West Glacier with a new addition to the family, Melissa Metcalf. For the next 45 years he managed a motel, operated a wilderness outfitter business, was the general manager of the West Glacier Golf Course, managed a snowmobile business, operated the golf cart concession at the Buffalo Hill Country Club and worked for the Montana Highway Department.

Marlin moved to Tri Palm Estates in 2002 and was a member of the Second Season Golf Club. He loved golf and everyone in the club loved him. Marlin played golf six days a week except Sunday. After each round he could be found at the patio with his golf buddies. It is estimated that he played approximately 2,500 rounds during his 18 years in the park and at least 500 times, if not more, he shot a scored under his age, a truly remarkable accomplishment.

In his storied, heroic and well-lived 97 years, Marlin Metcalf was blessed with many talents and uncommon good health. For those of us who were equally blessed to know him his hallmark was an always ready smile, accompanied by a warm personal greeting and a firm, sincere handshake.

Marlin was a man's man. Unassuming and humble about his many accomplishments, as most members of the Greatest Generation usually are. These rare qualities were what endeared him to those of us who knew him. The aura of contentment for a life well lived was exhibited in the simple pleasures of a round of golf, played at a level that most men half his age envied; and then, almost always followed by a cigar, a beverage and simple conversation that inevitably included "How'd you play today?"

Marlin is preceded in death by Bathena, his wife of 55 years; his two older sisters and infant brother; and longtime partner, Janie Fagerland. He is survived by his daughter, Melissa, in Kalispell.

Melissa wishes to thank his golf buddies that shared the stories above and also a thank you for trying to keep him out of trouble.