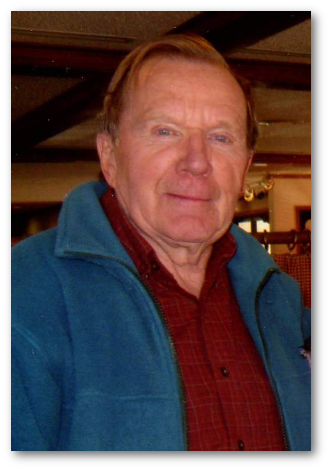 Curtis Oliver Peterson
July 22, 1931 - December 22, 2016
Curtis Oliver Peterson completed his journey on earth on Dec. 22, 2016, at his home, in the loving care of his family.

He was born on July 22, 1931, in Superior, Wisconsin, the son of Edwin and Beatrice (Krona) Peterson. Starting his working career in his teen years, he was a caddy for Nemadji Golf Course and a pin setter at Waletzo bowling alley. He recalled that a priest was most generous as he stuffed the thumbhole with a $5 bill; in the 1940s that was a big deal. Upon graduating from Central High School he traveled west to work for the Great Northern Railroad under the tutelage of his grandfather section roadmaster Fred Krona.

He enlisted in the U.S. Air Force in 1950; his tour of service took him to Germany where he spent the next three years as a parachute packer. While there he made lifelong friends with Ed Vilchinsky and JC Stafford, he visited Saboe relatives in Norway and attended the 1951 Olympics in Finland.

He married Lorraine "Amy" Peterson in Superior and they recently celebrated 62 years of marriage. To this union four wonderful children were born, Gary, Cheryl, Cary and Steven.

Returning to Superior he worked for the Great Northern until 1961, at which time he and his family relocated to Whitefish where he went to work for the Anaconda Aluminum Company, where he became active in the Aluminum Workers International Union serving as trustee, secretary and president of Local 320 and Northwest Council of Councils. He also served intermittently with the United Steel Workers on contract negotiations, organizing and arbitration's, etc. He retired from Columbia Falls Aluminum Company (CFAC) in 1994.

Curtis' life calling was to be of service to others. He served on the board of directors for North Valley Hospital, Blue Cross/Blue Shield and Flathead Valley Community College Foundation; was active in the First Presbyterian Churches he attended, serving as a deacon, on Session, building maintenance, treasurer; no task was too humble for him to tackle. He took great delight to serve in the building of the Glacier Presbyterian Camp and on the board also. He was active with the Fairway Boulevard Homeown-ers Assoc-iation for many years and was presented with his prized "Golden Spigot" award. Curtis was a life member of VFW Post 2252 and served 20 years with the VFW Honor Guard, considering this an honor to do so. He was a member of Masonic Lodge 864 of Whitefish and the Order of Eastern Star Vista Chapter 44, serving in various leadership positions over the past 19 years.

Being Dad to his children, foster children and then Grandpa and Great-Grandpa was the delight of his years. He loved to embellish stories to the little ones as he did 20 years of taxi service for his 'grands' and 'greats' with school pick up schedules. Grandpa was always on call for family emergencies and babysitting.

Curtis was preceded in death by his parents, brothers Elwood and Fred, and son Gary (2004).

He is survived by his brother Bill, (Bonnie) of Superior, Wisconsin; wife, Amy; Gary's children, Curtis Wm. (Dustin and Rylin: Courtnie Marino (Calista and Clarice); daughter, Cheryl Reynolds (David) and children Christa Clark (Todd), Alexandar and Maddox, Brent, Adam and fiancée Melissa Thomas; son, Cary (Rose); and son, Steven (Karen) Caleb and Logan; sisters-in-law, Elaine Stevens and Laura (Ronald) Norvich; numerous cousins, nieces and nephews and lifelong friends.

Curtis loved deeply his family and many friends; he appreciated his golf buddies; our "Dine In Group" of 20-plus years, church "family," especially our adopted Eddy Lou. We are grateful for the many visitors, calls, cards and hospice care for Curtis during his trying months with declining health due to Parkinson's.