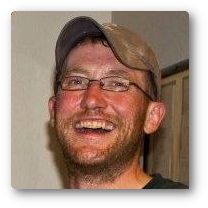 Brandon Heath Nelson
July 25, 1980 - January 28, 2019
On Monday, January 28, 2019 Brandon left us suddenly and all too soon after a vehicle accident in Bigfork. His beloved Blue Heeler/Border Collie mix Sheba and her young puppy Rojo followed him over the Rainbow Bridge.

Brandon was born in Aberdeen SD on July 25, 1980 to Teresa Snyder Nelson and Ron Nelson. He was raised in the Dakotas, Alaska and Nebraska before finally settling in Kalispell where he attended Flathead High School, graduating in 1998. Right out of High School he enlisted in the U.S. Air Force to serve our country and was honorably discharged in 2002.

Brandon was involved in many community activities, especially those that benefitted our veterans. He served as VFW Past Junior Vice Commander, was a Veteran's Pantry Volunteer, was involved in the VFW Sunday Morning Breakfast benefitting the Flathead Warriors Fund.

He also worked with the Flathead Bike Club, Project Homeless Connect and the annual "Bring Out Your Mom" bike ride on Mother's Day.

Brandon's Mom often described him as a "burnt marshmallow" crusty on the outside and sweet and squishy on the inside. He was kind, helpful and considerate and always happy to help out friends and strangers. He loved to be silly with kids, quoting Shel Silverstein, reeling off spoonerisms and great puns or play knock-knock jokes with his nieces all day long. He was a stickler for grammar, loved poetry, especially Edgar Allan Poe and often wrote his own poetry.

Brandon appreciated the rugged Montana outdoors introducing (dragging/encouraging) others to enjoy it as well. He was an excellent teacher for young and old alike.

In 2017 he was blessed with the joy of his life, his beautiful, daughter Charlotte Quinn Nelson. He cherished every moment he was able to spend with her and loved her beyond words.

Brandon was preceded in death by his stepfather Ray Bilile.

In addition to his daughter, left to mourn him are his mother Tere Nelson of Bigfork, his father Ron Nelson of Minnesota, his brother and best friend Trevor Nelson, his stepbrother Corey Bilile, his nieces Lyric Nelson and Phoenix Nelson and his "brothers (and sister) by other mothers": Bo Helm, Sean O'Neill, Skippy Yelinik, Matt Thomas and Heather Petzak.