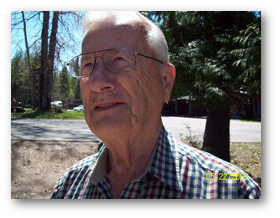 Donavan F. Working
- Feb. 10, 2016
The son of Floyd and "Tillie" Working, he is survived by his wife, Helen, three sons, four grandchildren, and two great-grandchildren.

Don grew up on the prairie during the Depression in the small town of Scobey. Despite the hardships of the time, he enjoyed his youth. He was an avid Boy Scout, loved hunting and fishing, and competed as a boxer.

Upon graduation from high school, he pursued a number of vocations before settling on a primary career. In addition to tours in the Navy during World War II, where he participated in most major Pacific battles, and the Korean War, he tried his hand on the business end of a railroad spike maul, owned and operated a gas station, operated a custom combine, and worked as a bartender, millwright, commercial painter and car mechanic. When called back into service for the Korean War, he was stationed in Astoria, Oregon.

Helen joined him shortly thereafter and they were married in Seaside, Oregon, beginning a 65-year journey together.

As Don and Helen were starting a family, he applied and was accepted into the U.S. Customs Service where he had a long and distinguished career, rising from an entry level border position to that of district director, where he became the only person in the history of the U.S. Customs to hold district director positions in three separate districts (Alaska, Texas and Virginia).

Following Don's retirement, he and Helen moved to Kalispell where Don turned to real estate development and put his all into constructing and refurbishing residential, apartment and commercial buildings. If not for a stroke at the age of 77, he would have continued. One of the projects of which he was most proud was the Whitefish Stage Professional Park. Think of him when you drive by it.

Don and Helen loved Kalispell and the wide group of friends and community that they have been so fortunate to become a part. Their family loved the Flathead Valley just as much and came to visit many times.