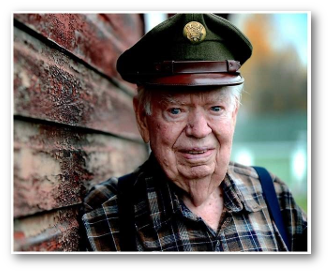 James Gray Edmiston
October 20, 1922 - March 8, 2017
James Gray Edmiston, 94, passed away Wednesday, March 8, 2017, at the Montana Veterans Home in Columbia Falls.

Jim was born in Colfax, Washington, in 1922 to James Gray Edmiston and Amanda Robbin Edmiston. His family moved to Kalispell in 1927 where he graduated from Flathead County High School in 1940.

He started college at Whitman in Walla Walla, Washington, but with the onset of World War II, he enlisted in 1942 in the Army Air Corps in the hope of becoming a pilot. With the need for infantry men, he became a heavy mortar gunner Private First Class with Company "M," 101st Infantry, as part of General Patton's Third Army and its big push through Europe. Arriving in Normandy, he fought in the Battle of the Bulge and received a Bronze Star and Purple Heart Award for wounds received in the 'Relief of Bastogne,' Belgium.

After the war, he resumed his college studies at the University of New Hampshire, and eventually received his business degree from Whitman College. Returning to Kalispell, he started work as vice president at the Conrad National Bank where his father was president in 1948. Jim met and married Phillis Parr in 1951, who was secretary to both him, and his father Gray.

In 1952, Jim purchased land between Kalispell and Columbia Falls from the Anaconda Co. that had been bought by Harvey Aluminum for a plant. He and his wife started Edmiston Land & Cattle Company there, which became the third largest producer of registered Herefords in Montana. With a foundation herd sire purchased from John D. Rockefeller's son, Winthrop, and a revered, dedicated crew of ranch hands and workmen, his cattle earned top awards at shows including the Northwest Montana Fair, the Montana State Fair, Bozeman Winter Fair, the Missoula Top Cut, Calgary Stampede and others.

While continuing to run the ranch, he and Phillis moved, with their three children, to Scottsdale, Arizona. where he received the charter and built the Bank of Scottsdale in 1960. Returning to the Flathead full-time in 1963, he eventually expanded the ranch to include a large feedlot and fully automated harvester feeding system.

When Gray went on to become president of the Bank of Columbia Falls, Jim oversaw the design and completion of the new bank building and drive-in on Nucleus Ave. After selling the ranch in 1975, Jim went back into banking and served as president of the Bank of Columbia Falls and Inter-mountain Bancorp-oration.

Jim had many varied business interests and partnerships that included The Scottsdale Progress newspaper, O'Neil Printing Company, The Daily InterLake, Time Insurance, The Kalispell Coca-Cola Bottling Plant, the Kalispell Meat Packing Plant, Tri-City Warehouse Foods, and was instrumental in bringing the television signal to the valley. He also served on the board of Crime-Stoppers.

Like his father, Jim was a kind and generous man with a giving heart and helping hand. He valued his time with family, and appreciated his long, close, enduring friendships. He enjoyed reading, woodworking and computers, having installed one of the valley's largest banking computer systems. Living through much hardship, he remained resilient and strong, and was most proud of his children and their accomplishments. He was grateful to hold his newly born only great-granddaughter on Christmas Day, and again three days before he passed. He died with his daughter, granddaughter and great-granddaughter at his side.

Jim was preceded in death by his parents; wife Phillis in 2015; daughter Janel in 1994; and sister Norma Happ in 2015.

He is survived by his daughter, Marla Edmiston of Kalispell; son, James G. Edmiston and wife Marni of Billings; granddaughter, Katie Edmiston-Luoma, husband Cory, and great-granddaughter Fia Pearl Luoma of Columbia Falls; grandson, Gray Edmiston of Twin Bridges; nephews Craig Happ, Rick Lee, and Lynn L. Lee; nieces Laurie Happ and Norice Lee.

Private military graveside services are pending for a later date at C.E. Conrad Memorial Cemetery.

The family wishes to thank the Daily Inter Lake for the telling of 'his and his father's war stories,' and the helpful staff of the Montana Veterans Home for his care the last two months.

In lieu of flowers, memorial donations can be made to The Museum at Central School, Kalispell.

Johnson-Gloschat Funeral Home and Crematory is caring for the Edmiston family.