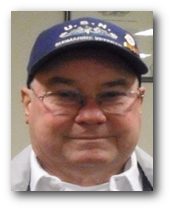 Jerry Lloyd Dressler
March 17, 1942 - May 22, 2016
Petty Officer 2nd Class Jerry Lloyd Dressler, 74, passed away on May 22, 2016, from natural causes.

He was born March 17, 1942, in Hutchinson, Kansas, the son of a Kansas chicken farmer. Jerry enjoyed telling stories about his childhood days. According to him, he had numerous run-ins with the school principal and law enforcement, which led to his joining the United States Navy. Jerry was very proud of his service as an engineer's mate on the submarine USS Pomodon.

After his service, Jerry became a residential contractor and built homes in several states before taking a job in Montana, in 1976. At the completion of this custom home, the family asked him to stay on as caretaker, which he did for over 20 years.

He held the position of commander for the Bigfork VFW until he transferred to the Kalispell VFW Post No. 2252 in 2007. He held the position of chief of staff for the state commander, Jim McGill. He enjoyed traveling, going to the VFW state conventions and district meetings. Carey Dill was one of his favorite road trip companions. "Dill" would white-knuckle it the whole trip and not say anything about Jerry's driving.

Jerry never married; he was married to the VFW. When invited to the schools for Veterans Day, he was always one of the favorites; the kids loved him. Being born on St. Patrick's Day, he would always dress up in outfits befitting the holiday.

His favorite saying was "You may not like me, but you will never forget me." Jerry had no problem saying what was on his mind, much to people's chagrin.

He was preceded in death by parents Lowell D. and Daphne C. Dressler, and his brother Charles William.

Survivors include sisters, Marilyn Moore of Voorhees, New Jersey, and Judy Hutchings of Henderson, Nevada; one niece and two nephews.