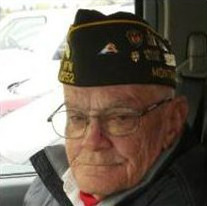 Henry Carlisle Fettler
September 30, 1936 - January 6, 2015
Henry Carlisle Fettler, 78, of Kalispell, passed away at Whitefish Care and Rehab on January 6, 2015. Henry was born in Tiffin Ohio to Henry C. and Roseanna White Fettler. He grew up in Ohio.

Henry met his soul mate Yvonne Harvey on a bus trip through Montana. Henry and Yvonne married March 25, 1970. They had two daughters Tammy and Debbie, and he adopted Carlyn and Hank.

Henry joined the Army at age 18, and served in both active duty and the Army Reserves for 37 years. He was a man who proudly served his country and gave both in spirit and in body to the promotion and continuation of freedom. Since being honorably discharged from the Army in 1992, he selflessly devoted countless hours volunteering with the VFW (Veterans of Foreign Wars), DAV (Disabled American Vets) and the Honor Guard. While in the Army Reserves, Henry was a security Guard for the Helena Fair Grounds. Henry was a loving Husband, Father, Papa, and Great Grandpa. The highlight of his days was being with family and friends. He loved meeting new people, getting his daily coffee and his BK (Burger King) breakfast. He also loved all of his pets very much. Henry was preceded in death by his parents, his wife Yvonne, son Hank Fettler, and Mother and Father In-law Millie and Cleo Harvey.

Henry is survived by three daughters Carlyn Murday and Husband, Joel, Tammy Block and Husband, Tim, and Debbie Fettler; Grandchildren Kaitlynn Rose, Derek, Felicity, Travis, Tyler, and Talin; Great Grandson Tralyn. Henry will be greatly missed by his family and friends.