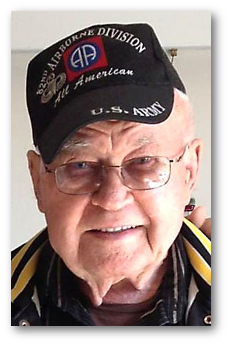 Glenn R. Koski
April 20, 1930 - June 6th, 2015
Glenn R. Koski passed away on June 6, 2015, at the Montana Veterans Home. He was born in Paavola, Michigan, on April 20, 1930, to Oscar and Helmi Koski. As a young child, he worked along with his father in a shoe repair shop. In 1947, he joined the Army. He became an Army Ranger (Special Forces). Glenn eared his Green Beret, and was in the 101st Airborne Division and the 82nd Airborne. Glenn was a jump master and was an instructor at the School of the Americas in Panama, where he taught jungle warfare, hand-to-hand combat and survival skills. He served in the Korean conflict where he received the Purple Heart for his service. He was stationed in Germany and Japan. He proudly served 22 years in the Army.

In 1969, Glenn married Pat Lynch; between the two of them, they had eight children. Over his lifetime, Glenn wore many different hats and was a police officer in Oregon and New Mexico. He worked for B & B Beverage, delivering beer all over the valley. He owned and operated Glenn's Shoe Repair for many years before his retirement. Glenn was an active member in the VFW, and also a member of the Eagles and Moose Lodge.

Glenn loved to do woodcarving, especially chainsaw carvings. He loved fishing, hunting and camping with his family. He loved people as well, because he never met a stranger. Glenn is survived by his loving wife of 46 years, Pat Koski; sons, Glenn Jr., Ronald, Don, Ron, Jeff and Clay and their families; brother, Don, and wife, Elaine; sister, Nancy, and husband, Oiva Harju; sister-in-law, Phyllis (late husband Bill Lynch); sister-in-law, Maxine Domgard; brother-in-law, Jack, and wife, Beth Lynch; numerous grandchildren and great-grandchildren; and many nieces and nephews.

He was preceded in death by both his parents; a brother, Butch; a son, Danny; a daughter, Diana; and both his parents-in-law, Warren and Mildred Lynch.

The family would like to thank the Veterans Home and staff for all the wonderful care that they gave to Glenn though out the four years he resided there.